Carry in style
When it comes to carrying your stuff, not your shopping but rather your camera say, in my opinion there is only one brand which is worth going with. Crumpler.
I've had a Crumpler "Sticky Date" which went back and forth to work with me for years, the "Zoomiverse" has been my LAN bag of choice, the "Jimmy Bo" homes my Canon 500D, a couple of "The Culchie" have kept my phones and MP3 players sage and a "P.P.80" for my old Casio Exilim camera. All of which have seen plenty use, oodles in fact.
So why do I keep coming back to this brand for bags? Quite simply the manufacturing quality is high, very high. They use a synthetic material for the outer which they call "Chickentex" that is truly durable (trust me my laptop bag was on my back through all 4 seasons for a good few years and all I ever needed to do was wipe it down) plus ample padding on the interior for whatever you are carrying and on straps to save you from pain and discomfort. They say every bag is hand made and thoroughly checked throughout the production process and this is something I can believe because every one I have owned (and still do for that matter) is still in great condition regardless of how much I've used them.
Along with their hand crafting of the bags Crumpler boasts a 30 year guarantee on its products, you really can't say better than that. The price is not on the cheap side but even then I think it is still affordable.
Oh, and they come with hilarious names and a wide variety of stylish appearances.
Do you own a Crumpler bag? Are you married to yours?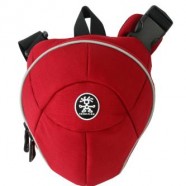 Nov

01
Tags
Related Posts
Share This