Skyfall

There have been many faces of James Bond over the years and Daniel Craig is the latest one, having starred as 007 in Quantum of Solace and Casino Royale before that. I think of the prior actors Timothy Dalton, Roger Moore and Sean Connery are the ones which stick in my mind as they were in films I watched during my early teens. Though of course Pierce Brosnan was in several movies but that was when I was finishing school or at university so inevitably my memory of those years is dominated more by other things. Now the new face has his third movie (with several more slated apparently) in Skyfall.
Plot
As the quintessential action hero James Bond returns for no less than the 23rd time to the 'silver screen' and once again offers up intrigue, sex, politics and a chunk of fighting.
This time around there was a nice return to the old style of plot where 007 has to work through puzzles, reveal the mystery and think on his feet whilst continuing to be who he is. It is the relationship between him and M which plays a pivotal role in this tale, and then in turn Mallory's influence with her which puts him in a slightly antagonistic role early on.
There were  a few points where the level of hints and nods to the older stories did feel a little too heavy handed on a couple of occasions but considering this is one of a very long line I think that can be forgiven. Plus most people probably wouldn't pick up on them all so it might not feel as forced as it did to me.
Paced with some nice transitions into sections of exposition after action scenes to let you absorb what has just happened the 143 minute play time really didn't seen all that long, I often worry that more than 2 hours is going to be a little too much. Plus coming full circle at the ending was really good. I'll just leave that hanging there …
Cast
In my opinion the best of all the cast was Judi Dench, who at 77 is still performing brilliantly with some real panache. She alone made me feel this film was not going to drop below a 4 star cast, and I wasn't wrong.
Javier Bardem actually gave me a real "Oh, he really is twisted" in his portrayal of Silva. Some very nice timing and a good bit of body language control which really made things click I felt without need for over blown gestures.
Ralph Fiennes and Bérénice Marlohe made for very nice supporting roles from their seperate parts in the storyline. I particularly liked the transitions for Sévérine which made her a more real "Bond girl" in my mind, whilst Ralph was able to put in a nice touch of undertone throughout all of his part.
Naomie Harris and Daniel Craig was an interesting combination at first, I wasn't entirely sure what to make of it but that moment half way through the film where he asked a question made me twig what was happening.
Finally though Daniel seems to have settled into the role, perhaps because the plotline in this movie was more suited to him but I thought he was definately on par with his Layer Cake performance which I really enjoyed. Gritty, persistent and just a little bit personal the different sides of James came through nicely even if I still don't think he looks right … but then thats because I imagine 007 taller and darker haired, not Craig's fault!
Visuals & Effects
There was yet more parkour in this film, something we have seen in the last couple and I think lends itself too much to the current fashionable trend of that pursuit rather than to the film itself. This was the only thing which I felt detracted from the action scenes and stuck in my mind which is why I didn't give it five stars.
Of course no Bond film would be complete without some nice explosions, plenty of choice locations and a lot of different changes in wardrobe.
The locations were nicely picked and a clean variety to get different lighting styles and background colours, indeed I think there was a good bit of visual keying there for specific sections in order to engender particular emotions from the viewing audience.
Oh and the car? Nice touch I thought.
Soundtrack
Of course they couldn't avoid a bit of classic Bond in there with the brass playing the iconic tunes, but there was some nice mood work in there as well. The balance between the quieter sections with interplay between the various characters at MI6 or out in the busy streets and the inevitable sections of gunfire and explosions worked quite well. It did seem just a little bit like there was nothing which really stuck out as something new for a Bond film, just a really solid audio production which was well produced.
Conclusion
Enjoyable with some good homage to yesteryear whilst still being more modern, but doesn't feel like a "classic" in the making to me. Absolutely one for James Bond fans to watch, it has both a nice touch of detective work and still enough action to satisfy all spectrum of viewers. Though the final reveal was a little blatant in my opinion some may not see it coming, and indeed when in the cinema I heard some slight surprise from my fellow viewers.
Have you seen Skyfall? What did you think? Disagree with what I have said? Share your thoughts in the comments! Just try to avoid spoilers if possible please…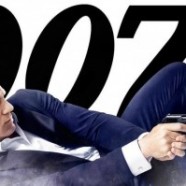 Nov

21
Tags
Related Posts
Share This