Upgrading the core pt II
In the first part I talked about the core components of the system which I chose for this upgrade, namely the motherboard, processor, CPU cooler and RAM. These will let a machine turn on but of course aren't enough for you to actually run Windows and applications, for that you need drives.
Recycling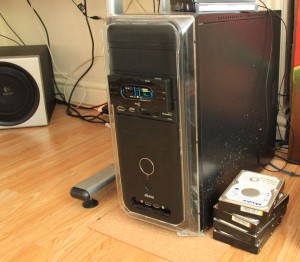 My plan was to stick with my SATA blu-ray ROM drive, a pair of 300Gb SATA hard drives for extra storage, the Radeon 4870 graphics card and Aero Cool FP-01 fan controller in the case that I have now. The case may be a little knocked from travelling around to LANs and moving house but essentially it is perfectly function and provides front panel USB and HD audio so has all the connectors I need.
My blu-ray drive does what I need and the fan controller would allow me to run the system quietly without any further expense. I see no urgent need for more storage space at the moment and as hard drives haven't come down to their 2009 price level, since the horrifically damaging tsunami affected the price of electronics due to lots of factories being cut off if not submerged, it simply isn't very cost efficient. Not to mention that anything important is stored on my NAS, which has a mirrored RAID array, as well as in the cloud so there isn't actually any need for heavy duty storage on my PC.
The only thing I would have liked to upgrade is the graphics card, but it is sufficient for now and would only truly have been for gaming which wasn't the primary reason to upgrade. I wanted to run all three of my monitors on a single machine and with the Z77 motherboard having integrated graphics I am able to run 2 screens on the discreet graphics card and the final monitor from the onboard chipset. It works very nicely and the HD4000 onboard graphics is probably enough for anyone who wants a machine which won't be used for new games or just graphics / web work.
The FSP 700W power supply was on the list also, but turned out that didn't want to work with the motherboard so it has been demoted and won't be joining the bright new future in my new machine (now known as Phoenix).
Boot drive
In order to give myself good speeds I wanted to use an SSD for my main C: drive. The OCZ 120GB Agility 3 was a reasonable price and plenty of people had reviewed it reasonably favourably, and the speed is certainly there. However since installation and running the machine I've found that the drive is buggy, in that it occasionally decides it simply doesn't exist and you have to physically unplug and replug the device to the motherboard. Suffice to say that I am not happy with this!
Having checked the drive is on its latest firmware and I have installed the latest firmware on my motherboard it is still occuring. Ocz have suggested trying a different port, but as I was running it on a SATA3 port, the only other option is a slower SATA2 port … which defies the purpose.
If this continues I will be using an RMA to return the drive to Dabs and buying a Corsair Memory 120Gb drive instead as a friend thoroughly recommends it.
Photoshop scratch disk
To give myself the maximum boost for graphics work I decided to fit an OCZ 30GB mSATA Nocti SSD to the motherboard to primarily use as a scratch disk. Between the 16Gb of RAM and this disk I should have absolutely no performance issues with large PSD files and
In the future
Ideally to make the machine even more useful I want to upgrade to a Windows Professional license and 32Gb of DDR3 RAM to improve the performance of Photoshop even further.  With a newer graphics card my sporadic gaming will have prettier pictures and I may even treat myself to a larger storage drive once the prices come down. Perfect world, money is no object, just because I can upgrade would be to buy a set of 3 matching monitors in the 26″ or larger range.
That is it for now though, any recommendations of graphics cards or monitors for the future? Need any advice on upgrading your own PC or perhaps building a new one? Comments welcome below!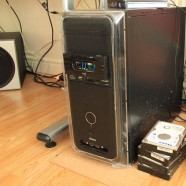 Aug

15
Tags
Related Posts
Share This