Having a clear out
As part of my ongoing personal project to clear out all the stuff I really don't need from my life I realised I have literally hundreds of books. This shouldn't be of great surprise to most since I worked for a publishing business for over a decade, plus I like books generally speaking. However I very rarely read a book twice and the sheer amount of space these take up is just too much. So instead of hoarding them forever I figure why not offer them to a new home and turn them into a little spending cash for myself in the meantime?
Below is the full list of all the books I am making available which will be periodically updated to show which titles have been sold so let me know if you want anything specific as soon as possible. They are all in "good condition", so at most a couple of nicks on the edges or slight aging of the page edges but otherwise fine, unless otherwise specified. First come first served for any reasonable offers (see eBay for rough price, thats what I will be doing)! Most of these were up on eBay, many have sold already but I will be listing those below in future, happy bidding if you get the chance!
Bold – just a highlight.
Warhammer 40,000 novels
Double Eagle (First edition)
Ravenor (First edition hardback)
Ravenor Rogue (First edition hardback)
Ravenor Returned (First edition hardback)
Soul Drinker
Ragnar's Claw
Grey Hunter (first edition)
Only in Death
Traitor General
Straight Silver
Dead Sky Black Sun (softback)
Time of Legends novels
Warhammer novels
Zaragoz (Boxtree edition)
Vampireslayer (second edition)
Beastslayer (second edition)
Skavenslayer (second edition)
Trollslayer (second edition)
Daemonslayer (second edition)
Elfslayer
Shamanslayer
Dragonslayer (second edition)
Zombieslayer
Giantslayer
Orcslayer
Manslayer
Gotrek & Felix the first omnibus (hardback)
Empire in Chaos
The Broken Lance
Konrad Saga
Blackhearts Omnibus
Graphic novels, comics and magazines
Warhammer Monthly spare issues 59, 62, 63 & 67
The Redeemer (four part comic series edition)
Daemonifuge: The Screaming Cage (3 part comic series edition)
Inferno! issues 33 & 34
Miscellaneous books
The Girl With The Dragon Tattoo (english translation) – Stieg Larsson
Last and First Men – Olaf Stapledon
Necroscope: The Lost Years – Brian Lumley
World of Warcraft Atlas (original era)
Warhammer & Warhammer 40,000 rulebooks
Warmaster Ancients
Warmaster
Mordheim
Warhammer (from 2000)
Warhammer Siege
Warhammer Vampire Counts (1999)
Warhammer Champions of Chaos (1998)
Warhammer The Empire (1996)
Warhammer Dark Elves (1996)
Warhammer Bretonnia (1996)
Warhammer Lizardmen (1999)
Warhammer High Elves (1999)
Warhammer Dwarfs (1996)
Warhammer Dogs of War (1998)
Warhammer Orcs & Goblins (1996)
Imperial Armour Vol 1 (hardback)
Imperial Armour update
Imperial Armour Vol 2
Battlefleet Gothic
Inquisitor
Inquisitor Annual 2002
Necromunda (hardback)
Warhammer 40,000 1st edition (not Rogue Trader!)
Warhammer 40,000 Codex Imperialis
Warhammer 40,000 Wargear
Dark Millenium
Warhammer 40,000 2nd Edition
Warhammer 40,000 3rd Edition
Warhammer 40,000 4th Edition
Codex Imperial Guard (1996)
Codex Ultramarines (1993)
Codex Eldar (1994)
Codex Orks (1994)
Codex Chaos Space Marines (1999)
Codex Assassins (1997)
Codex Assassins (1997)
Codex Dark Angels
Codex Blood Angels
Codex Armageddon
Codex Craftworld Eldar
Codex Catachans
Codex Tyranids (2001)
Codex Eldar (1999)
Codex Imperial Guard (1999)
Codex Dark Eldar (1998)
Codex Space Marines (1999)
Cities of Death
Codex Tyranids
Codex Tau Empire
Codex Daemonhunters
Codex Battlezone
Codex Tau
Codex Chaos Space Marines
Lord of the Rings : The Fellowship of the Ring
Lord of the Rings : The Two Towers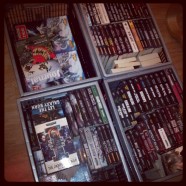 Oct

10
Tags
Related Posts
Share This