Lawless

Every once in a while my friend Sian and I will head off to the cinema to catch a movie, this time around she suggested we go to the Broadway cinema in town to see Lawless. Having not really heard anything about it the trailer intrigued me, but didn't prepare me for what I saw.
Plot
Apparently "Based on a True Story" (I had to chuckle at the capitalisation of those words) the story is at first glance really simple. As it progresses though the characterisation really begins to blossom and develop as the forces come to play in the plot which I thought was actually quite dark at points. The different players, the abrupt juxtapositions used to really push the storyline through some tight turns and a strong supporting cast who are all quite individual in their own right all mix together into a real medley towards the end. All of this is done with some really good pacing, I didn't find the two hours dragging at all and in fact it got going quite quickly without feeling rushed.
Cast
For once I would actually be truly hard pressed to pick out who was the best performer as the cast was on form.
Shia has a very pivotal role that he gives a real feeling of reality to, but Tom Hardy and Guy Pearce are such a wonderful pair of opposites that it is a great little dance as their parts intersect with each other. Between Guy's pontification to remarkably well honed neurosis and Tom's minimalistic, sometimes even humorous, yet explosive performance they add some great power which feeds to well into the storyline Shia uses to sculpt his youthful exuberant part into.
I also found myself really enjoying Jessica Chastain's portrayal of Maggie especially with the events in the storyline, that character is particularly strong even though it is more of a supporting role partly because of her acting.
Visuals & Effects
The only time I could possibly have faulted the visuals of this film is when Guy Pearce's gloves changed from black to grey in the middle of a scene, but you probably won't even notice because of what is happening! What really makes this film for me visually was the wardrobe which managed to pick on those stereotypes of early 1900s styles that you would expect, without looking too exaggerated. Combined with some simple locations and clean cinematography this was a visual treat … apart perhaps from some of the more extreme scenes which, whilst well executed, were thoroughly graphic.
Soundtrack
It would have been a mistake to make this film have a really strong soundtrack, with such great plot lines and acting it would have become too much. However it wasn't, if anything it was quite understated. The sound scape seemed quite authentic, but then in such a generally rustic setting you really wouldn't expect much else.
Conclusion
This was, in my opinion, an absolutely brutal and visceral film with some of the best acting I have seen in quite some time. Shia LeBeouf, Tom Hardy, Jessica Chastain and Guy Pearce lead a brilliant cast with wonderful direction by John Hillcoat. Whilst there are scenes which will upset those with a dislike for violence or gore it was extremely used without being over done. I will be adding this to a list of my personal favourites for 2012, perhaps all time.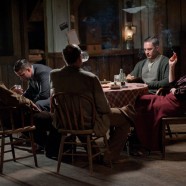 Sep

21
Tags
Related Posts
Share This