The Dark Knight Rises

The third, and final, part of Christopher Nolan's rebooted Batman films had to contend with Avengers Assemble in the media but as I had enjoyed the previous two films I looked forward to seeing it at my local Savoy cinema here in Nottingham.
Plot
The plot isn't particularly complex per se but I think you would benefit much more from having seen the first two movies beforehand when seeing this film. It covers a lot of ground, both in terms of plot threads and sheer time passing in the film, and references items from the previous films which would have far impact without seeing them. Of these I think the fact that a lot of time passes is the one thing that Nolan has, perhaps by necessity, glossed over a little too much. There is a section where literally months go by and I couldn't help but feel that it could have been just days without the exposition to point it out.
Blake and the ending
The final montage, with Fox literally being told that Wayne fixed the auto pilot and the necklace being missing leading to the moment as Alfred looks over and Wayne nods back seemed too trite for my liking. I would much rather have seen Fox ask the question but the techs giving him no answer, have Blake make his reveal and then finish with Alfred looking up and having that look without showing Wayne and Kyle at the other table. Using the viewers own imagination to make you wonder, did he or didn't he find a way out? Was Alfred just smiling at Kyle perhaps? Leaving a couple of questions would have been nice, but it seems Nolan wanted to tie up those plot threads.
Speaking of leaving questions though, is the reveal that Blake is called Robin going to lead to more films? Obviously with Wayne faking his own death (with a fusion bomb no less, kudos) this leaves it open to the possibility of him returning for some Batman and Robin action. Though with Nolan's decision to have him appear to retire that would be a bit of a u-turn. Perhaps he and Kyle part ways, thus he returns to what he only knows? Perhaps Alfred is dead, so he no longer feels obliged to carry on honouring his wishes? Something only time will tell I suspect but that feeling I got from the simple mention of the name Robin was great, and could have been better with my ideas above in my opinion.
[collapse]
Cast
By now we all know Christian Bale as Batman quite well, and he actually picks it up a bit in this film after being over shadowed by Heath Ledger's amazing performance in the last film. What is interesting to see is how Anne Hathaway and Marion Cotillard fit in with the existing supporting characters played by Morgan Freeman, Michael Cane and Gary Oldman. Whilst Marion plays the demure and well spoken Miranda I didn't feel she was quite as strong as she could have been, though the part was limited. Anne Hathaway however seemed to slip into her role marvellously and really gave Selina Kyle a nice refreshing take compared to the previous Catwoman incarnations
Visuals & Effects
The wide variety of settings could be a challenge for many producers but as expected the scenes are very nicely produced by Nolan. Unlike the first couple of films there aren't any truly impressive settings, much as it is enjoyable seeing Wollaton Hall being used as Wayne manor the city scape is just another dirty city. The vehicles and gadgets that Batman uses though are great, and there is a nice balance on just how much in the way of hollywood twisting of reality against just being gritty and dark.
Soundtrack
No Batman film in this trilogy would be the same without those string and drum background tunes, building gradually to a brass powered break … yeah, I'm over egging that as much as the soundtrack could be! Crisp and clear audio works very well with a fairly understated backing track which is what you expect from this film at the end of the trilogy, thankfully not spoiling the formula by doing something new and distracting.
Conclusion
Aside from my minor reservations about the ending and the passage of time I mentioned above this film is a fitting end to Nolan's vision and well worth a watch if you enjoyed the first films. A solid action movie to stick on when you are in the mood for something with a little plot, some action and familiar faces.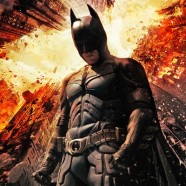 Sep

05
Tags
Related Posts
Share This